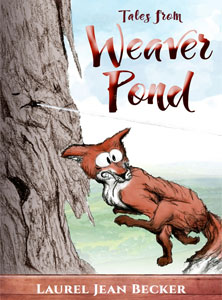 Tales from Weaver Pond

by Laurel Jean Becker
Tales from Weaver Pond has lots of twists and turns and helps its readers to understand the vital need for kindness and community – important lessons for children to learn.
An obvious fox that has to learn to be sly, a duck afraid to swim and fly, a homesick goose, a compulsive beaver that cannot play because the work is never done, a boisterous blue jay that needs to learn a lesson in kindness, and a wise owl that quits her job are some of the unusual characters that pack the pages of Tales from Weaver Pond. Each must learn about self-acceptance, the importance of being different, the need to accept others, and dealing with loss.
When Weaver Pond is threatened, each character finds that flaws can become strengths. Using teamwork, they survive the threat by implementing "Operation Mole Hole."
Click to hear an excerpt taken out of Tales from Weaver Pond . . .
Get hardcover and paperback here:


Order from the Author and receive a signed copy!

Hardback: $17.95 $15.25 per book plus S&H (Black Friday Sale!)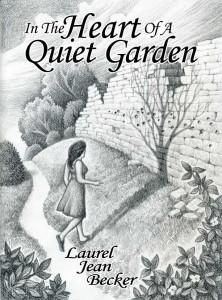 In The Heart of a Quiet Garden
by Laurel Jean Becker
Laurel Jean Becker's poetry gracefully addresses and embraces life's limitations and sorrows, as well as the quiet center where peace resides and hope and joy emerge. Whether  she is observing herself at work in her garden, looking carefully at a tree in winter, considering the value of family life or taking her "pen out for a spin," Becker evokes a faith as tangible as flowers. Her poems are a delight to the ear and the spirit, they invite us to join her in moving to the place where we can bathe in what she calls "communal sunlight."
~ Sheila Bender, author of Behind Us the Way Grows Wider, New and Collected Poems
In The Heart Of A Quiet Garden is a testament to how writing can connect us to our wholeness.  Laurel's poems reveal how her writing and faith keep her connected to her truth. With precise language, open heart and willingness to grow, Laurel shares her quiet garden with courage and love. A poignant read for anyone who loves poetry as a path to the Self
-Cynthia Morris, author, Chasing Sylvia Beach
In The Heart Of A Quiet Garden carries home the harvest of Laurel Jean Becker's delicate craft work. In her sustained faithful lines, the poet embraces poems as prayers and prayers as poems.
—Sandra Maresh Doe, Ed.D., Professor of English, Metropolitan State University of Denver
To direct order from Laurel, click here.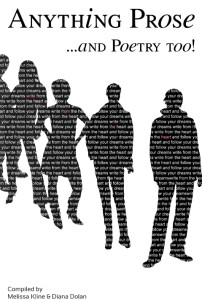 Anything Prose…And Poetry, Too!

Several of my poems and a short story are being published in Anything Prose…and Poetry, Too! – a one of a kind collection of works written by 32 talented authors.
Here is a sample of what you will find inside: Anything Prose…And Poetry, Too!
Inspiration – Choose to say "Yes", remember that you are loved and discover how to bring happiness into your life.
Suspense – Attempt an escape from a crazed maniac in a violent storm. Stagger your way through a haunted house.
Memoir – Follow a mother's journey through the joys of parenthood. Discover a man's process of love and loss. See how one woman's relationship with her pet changed her life.
Abstract – Find out what it's like to ride in a paper airplane. Prepare for a journey to the sun.
Chick Lit – A cynical 20-something finds unexpected love… in a hot tub.
Humor – Follow a day in the life of an enthusiastic Jack Russell terrier.
Adventure – Go on a fishing expedition with a teen who saves the day. Trek with a lonely Basque sheepherder.
Spiritual – The importance of simplicity, creation, universal language, joy, love, freedom, peace and bliss.
To direct order from Laurel, click here.
Poetry On Track
Poetry on Track is an anthology compiled by the Columbine Poets of Colorado published in 2013 to commemorate their 35th year. You will find my work in it in addition to the work of some of the Colorado's best poets. If you love poetry, and you love to hear different voices, this is the book for you.
To direct order from Laurel, click here.
Women's Voices of the 21st Century
I was privileged to have several pieces of my work selected for this book. Published by Argian Press, New York, for the Connecticut branch of the National League of American Pen Women, it is filled with messages of strength, perseverance and hope from women who have survived, learned from and celebrated what life has brought them. These womens' voices will inspire you to keeping turning the pages of this beautiful, hard-bound book.